Updated April 2018

HONORS AND ACCOLADES
Norwell Family Dentistry is pleased to have received the recognition as Top Dentist in the Town of Norwell, MA for 2017, 2018, 2020 & 2021 by Patient Reviews Certified. We are honored to be recognized for outstanding service to our patients and our community, and hope to continue providing for our neighbors long into the future.
We are also delighted to have been named in Boston Magazine's Top Dentists for 2018, 2019, 2020 & 2021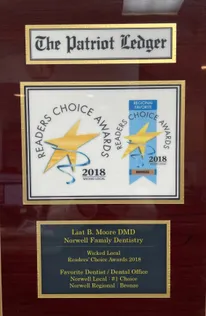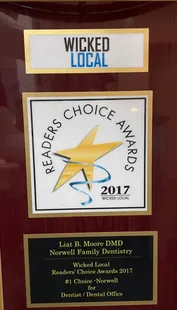 Norwell Family Dentistry was voted the #1 Dental Office in the area by the Readers Choice Awards at Wicked Local for 2017, 2018, and 2020,
Thank you to all our wonderful patients for your support and for your vote.
Norwell Family Dentistry was recently featured in the Straumann Implant International Annual Report. This report highlights excellence in dentistry practices and services worldwide. The report is published annually by The Straumann Group, headquartered in Basel, Switzerland.
REVIEWS
Here's what our patients have been saying...
I've been a patient for many years and won't go anywhere else! They have been very sensitive to my TMJ when doing dental work and are thoughtful about only using Novocaine when it's necessary (I hate needles). - Sarah Hogan
---
Liat is awesome!!!! Always makes me more than comfortable and always works with my schedule!!! Highly recommend. - Bill Morin
---
I can't say enough about how awesome the Norwell Family Dentistry team is... caring, patient with my nervousness (I'm a baby when it comes to the dentist, really), smart and efficient. They helped me map out a plan to keep my teeth and gums healthy and make my smile the way I want it because they even do InvisiLine and whitening! Love them... - Donna Townsend Amado
---
I highly recommend this practice. The care is exceptional, and the staff goes above and beyond to deliver outstanding customer service. Dr. Moore truly cares about her patients' welfare and listens to their needs and concerns. Everyone's comfort level is different, and she is keenly sensitive to that and goes above and beyond to ease a patient's concerns or worries. If you are new to the area or would like to make a change of providers, I strongly encourage you to visit Norwell Family Dentistry. You will be in great hands. - Chrissy Maguire
---
I am so happy to have found the best dentist. What a friendly office staff. I have always wanted to have my teeth straightened and now with Dr. Moore it is finally happening with Invisalign. - Lisa Callanan Axios
---
Dr. Moore and her entire staff are exceptional. They make you feel welcome and comfortable and treat you like family. I would not even consider seeing any other dentist!! - Kathy Clark
---
I'm proud to say that my whole family goes here; adults and kids! - Stephanie Gertz
---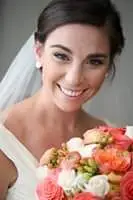 Thank you to Dr. Moore and everyone Norwell Family Dentistry for making my smile absolutely perfect for my wedding day! I am so lucky to have worked with you all! Invisalign and whitening are miracle workers! This is the best team. Thank you!! - Meg Watts
---
Such an amazing Family Dentistry practice. I have followed Dr. Moore with my three children from the original dental office she was at 16 years ago. We all love her and her amazing staff. I would highly recommend them to everyone!! They make taking care of your teeth easy!!! - Carol C.
---
We were on vacation when ran into an emergency situation. We called Norwell Family Dentistry and explained the problem. Within an hour Dr. Moore had a prescription waiting for us in York, Maine - Woo hoo, she saved us! Thank you so much for your prompt attention to our needs. They have also fit us in on short notice for a complete diagnosis and treatment! 5 stars! - Nancy Merrit
---
About 14 years ago, my dentist in Hingham suggested I could be seen quicker if I would see his associate, Dr. Moore. She determined that an extraction was needed for a tooth that was primarily deteriorating fillings. An oral surgeon removed the tooth and installed an implant. When it was time for a crown, Dr. Moore, who had taken a break for the birth of her first child, had joined Dr. Leonard in Norwell as an associate dentist. Because I was so impressed by her, I went to her Norwell office to complete the process. My praise for Dr. Moore's thoroughness and professionalism, caused my wife to follow me to the Norwell office. Because my mouth was dominated by teeth with very large old fillings, many were not salvageable once they became painful. Consequently, I have had multiple procedures, with Dr. Moore providing the diagnoses and treatment. My mouth now functions perfectly and I never had a problem with my implants, crowns or fillings. My wife and I referred several close friends to Dr. Moore. they were grateful for our advice. The doctor and her friendly staff provide a wonderfully caring, family atmosphere where I am totally at ease in their care. I am treated as a "friend" not a number. 5 stars! - George Neat
---
Dr. Moore has been my dentist for 14 years and she is a a great dentist for all ages -both adults and kids. The Norwell Family Dentist office staff is exceptionally wonderful and friendly too and it is easy to schedule appointments, even some nights and weekends. Dr. Moore is smart and will take good care of all your dental needs, whatever they may be. Highly recommend if you are looking to make a switch to new dental practice or if you are new to the area! 5 stars! - Elise Sheftel Warhaftig
---
I have been going here for many many years. I couldn't be happier with them! I wouldn't even consider going anywhere else. I've had fillings to Implants and been extremely happy with every visit. Everyone here is extremely professional and friendly. I would refer anyone I know here and feel confident that they would be getting the same professional service I've received. 5 Stars! - Jerry Tesoro
---
I have been going to Dr Moore for over ten years now , it was the best move I ever made and I have seen a lot dentist , Dr Moore and her Crew are so professional and " personable" you don't mind going to the Dentist... 5 stars! - Steven Lee
---
Dr. Liat Moore and Dr. Joel Leonard offer comprehensive dental services for the entire family. 5 Stars! - Anya Rapoport Rost
---
5 Stars! - Lacy Lynn
---